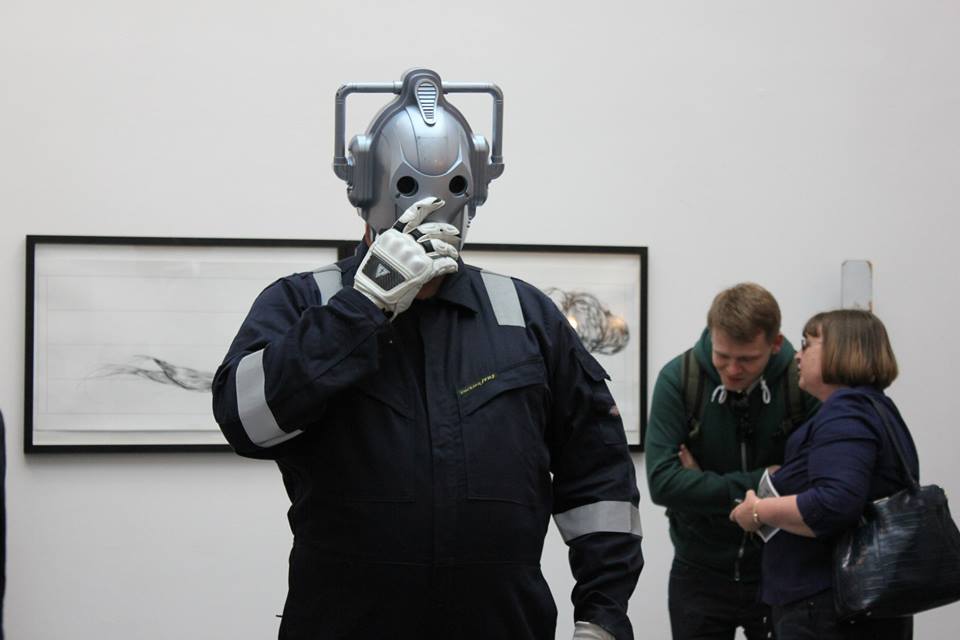 Image: Emoticon @
Portrait of Modern Movement
Visual Collective Space,
10 Vyner Street
London E2 9DG
At The Visual Collective with Art Pendeo

Photos by Louise Lynn
From about the mid-1960s into the 1970s, Live Art performance often derived from concepts of visual art, with respect to Antonin Artaud, Dada, the Situationists, Fluxus, installation art and conceptual art. Performance or Live Art tends to be defined as an antithesis to theatre, challenging orthodox art forms and cultural norms. However Performance Art is an essentially contested concept: any single definition of it implies the recognition of rival uses, just as concepts like "democracy" or "art", imply productive disagreement with themselves. My particular practice draws on tribal rituals (wearing masks) and elements of contemporary consumerist culture along with Digital Live Art which is the intersection of Live Art (art form), Computing and Human Computer Interaction (HCI).

Check out the artselectronic article that features the work Emoticon at:
http://artselectronic.wordpress.com/2013/06/15/the-emotional-computer/
Or Emoticon@ The Encyclopedic Palace in Vencie at: http://rhizome.org/announce/events/59897/view/


UPCOMMING
27 Feb 2016 Ultraviolet Sun, Art Selectronic in association with e-Media Loft and the Museum of Modern Media, Waterloo Action Centre (WAC) 14 Baylis Rd London SE1 7AA
http://fadmagazine.com/2016/02/27/ultraviolet-radiation-sun-evening-performance-sonic-retinal-art/
http://www.artslant.com/ew/articles/show/45299
EXHIBITIONS/ LIVE EVENTS
14- 25th January 2016 Live Art Performance 'Cake Hole' for the opening of Standing In The Shade, Mile End Art Pavilion, Clinton Rd London E3
4QY http://fadmagazine.com/2016/01/21/last-chance-standing-shade-mile-end-art-pavilion/
http://www.artslant.com/lon/events/show/407658-standing-in-the-shade
28 Nov - 28 Dec 2015 Deepwater Horizon by Tom Estes- created for BP Loud Tate on show at the opening of Bulb Contemporary
https://artselectronic.wordpress.com/2014/11/07/transparency-sponsorship-bp-loud-tate-2014-code/
https://www.facebook.com/events/1653155724942993/
13 Nov - 6 Dec One Plus One, Lubomirov - Angus Hughes Gallery, 26 Lower Clapton Rd, London E5 OPD
http://www.lubomirov-angus-hughes.com/One-Plus-One
https://artselectronic.wordpress.com/2015/11/11/study-finds-children-exposed-to-religion-have-difficulty-distinguishing-fact-from-fiction/
12- 25 Oct, 2015 Secret Genius: An evening of interventionist performance and video at FT Weekend, Bond Street, Mayfair London With Martin Sexton,Tom Estes,Mark McGowan, Stewart Home, Jim Racine, Jonny Reding, Peter Lewis and an original soundtrack by Douglas Park
http://ftadmin.co.uk/promo/20150911-bond/
https://www.facebook.com/media/set/?set=a.996640220409948.1073741853.136357689771543&type=3
5 - 6 September 2015, Magnetic North, The Crossley Gallery, Dean Clough Mills, Halifax, West Yorkshire
https://artselectronic.wordpress.com/2015/09/02/magnetic-north/
26- 29 June 2015 Tom Estes invited to be Honorary Mayor of DEN-City, The Foreman's Smokehouse Gallery, Hackney Wick, part of the London Festival of Architecture, Supported by the Arts and Humaniteis Research Council (as part of their Connected Communites Festival) Middlesex University and the research project 'Hydrocitizenship'
RECENT AWARDS
Tom Estes is the Digital Artist of The Day for the Coventry Mysteries Festival: http://blog.ludicrooms.com/?p=885 http://fb.me/1XBRNmDrG
· Tom Estes in conversation live at the MK Gallery, Milton Keynes, in collaboration with NN Contemporary October 10th, 2013
http://www.nncontemporaryart.org/
·
2014 interview at The Florence Trust
·

Two-part Interview with Tom Estes at Mnemoscape,

April 2013
Part 1. http://mnemoscape.wordpress.com/2013/04/01/260/


Recent Past Exhibition
· 4th October 2014 Estes will be staging a Live Art Performance for Notte Bianca, Ritz Arcades: Valletta's Forgotten Realm, 280 Republic St. Valletta, Malta http://www.maltaculture.com/content.aspx?id=185301
· 3rd October 2014 Live Art Performance at In Dialogue, Nottingham Contemporary
http://www.nottinghamcontemporary.org/event/dialogue-2014
· August 31- Sept 3, 2014 Digital Installation OVERLORDS and the Live Art performance Emoticon by Tom Estes at ORNC during DRHA 2014. http://www.drha2014.co.uk/
· July 11- 25th 2014 Big Deal! Marvellous MIx-UpsX1, at Loud & Western, Broughton Rd, London SW6 2LE http://rhizome.org/announce/events/60776/view/
· Febuary 2nd 2014 The Chinese Open, Q park, 20 Newport Place, WC2H 7PR London http://www.deal-big.biz/big-deal-3-links.html
· January 31st 2014 The Florence Trust Winter Open. Eleven artists selected from a competitive field of applicants because of the strength and potential of their work. https://m.facebook.com/events/632283420152587?_ft_
·
October
24th- 26, 2013 Artist Talk- Rethinking Intermediality in the Digital Age, The International Society for Intermedial Studies, Cluj-Napoca, Romania
·
August 13, 2013
Live Art Performance in Performance -Documentation for Showspace,
·

June 9- 16, 2012

Installation 'Blitz' by Tom Estes at Coventry Mysteries Festival
·
June 6th, 2013
Tom Estes
Live Art Performance 'Emotion' at Portrait of Modern Movement, The Visual Collective, Vyner Street, London
·

May 2- 5, 2013
'Overlords' by Tom Estes at AXIS 2013 in Chicago
·
January 16th 2013
Into The New,
Royal Conservatoire of Scotland,
100 Renfrew Street,
Glasgow
,
Scotland
G2 3DB
http://rhizome.org/
·
January 15th 2013
Tom Estes , Performance SPAM, the opening night of The London Art Fair, in London supported by A.L.I.S.N-
http://www.alisn.org/
http://www.londonartfair.co.uk/
·
Oct 24
- Nov 26,
2012 Health & Safety Violation, Lubomirov-Easton, Enclave 8, 50 Resloution Way, Deptford London SE8 4AL.
This project brings together peformance artist Tom Estes and sculptor Ben Woodeson in an experimental collaboration.


·

August

30

- 31,

2012

Nottingham Contemporary/ Primary- Live Art Performance and

presentation

at '

In Dialogue' a

n International Symposium that interrogates how artists and researchers use dialogue in their practice.
·
July 27, 2012 The (Im) possible School Book -Tate Modern's transformation continues with the opening of The Tanks –
raw, industrial spaces which provide
the world's first museum galleries permanently dedicated to exhibiting live art, performance, installation and film works.
·

June 8- 24 2012 Annuale, Embassy Gallery, The National Gallery of Scotland One, Edinburgh- Artist Tom Estes enters the realm of Loony-tune Physics to create a Live Art Performance using a portable black hole for the darkest material ever made.


·
June 18, 2012, Art Takes Times Square, Artists Wanted, Times Square, NY- at twilight something new lit up the Times Square Billboard. Artwork 23 stories high replaced advertising.


·
Ju
ne 14th - 16th, 2012
GIANT STEP 1: Enter the Artworld?
In association with The European Cultural Foundation, MOYSTN and The Vanabbemuseum
·

The work of Tom Estes has been included in a new book of Performance Art.

Emergency INDEX, published by Ugly Duckling Press is now available to purchase from their website. The Champagne launch organised by the publishers has been listed as "One of the 8 things to do in the New York artworld"